For residents of New York, winter officially starts the day after thanksgiving and lasts through the end of March.
Despite the fact that snow can fall at any time between November and occasionally into April, the coldest months are January and February.
Winter in New York City is actually one of the most fun and exciting times to visit.
New York City is always full of fun and interesting adventures, regardless of the season. However, enjoying NYC's winter attractions is a unique experience.
If you're ready to bundle up and see New York when it's at its most enchanted, check out our selection of the best things to do in NYC in the winter.
Some Winter Adventures in NYC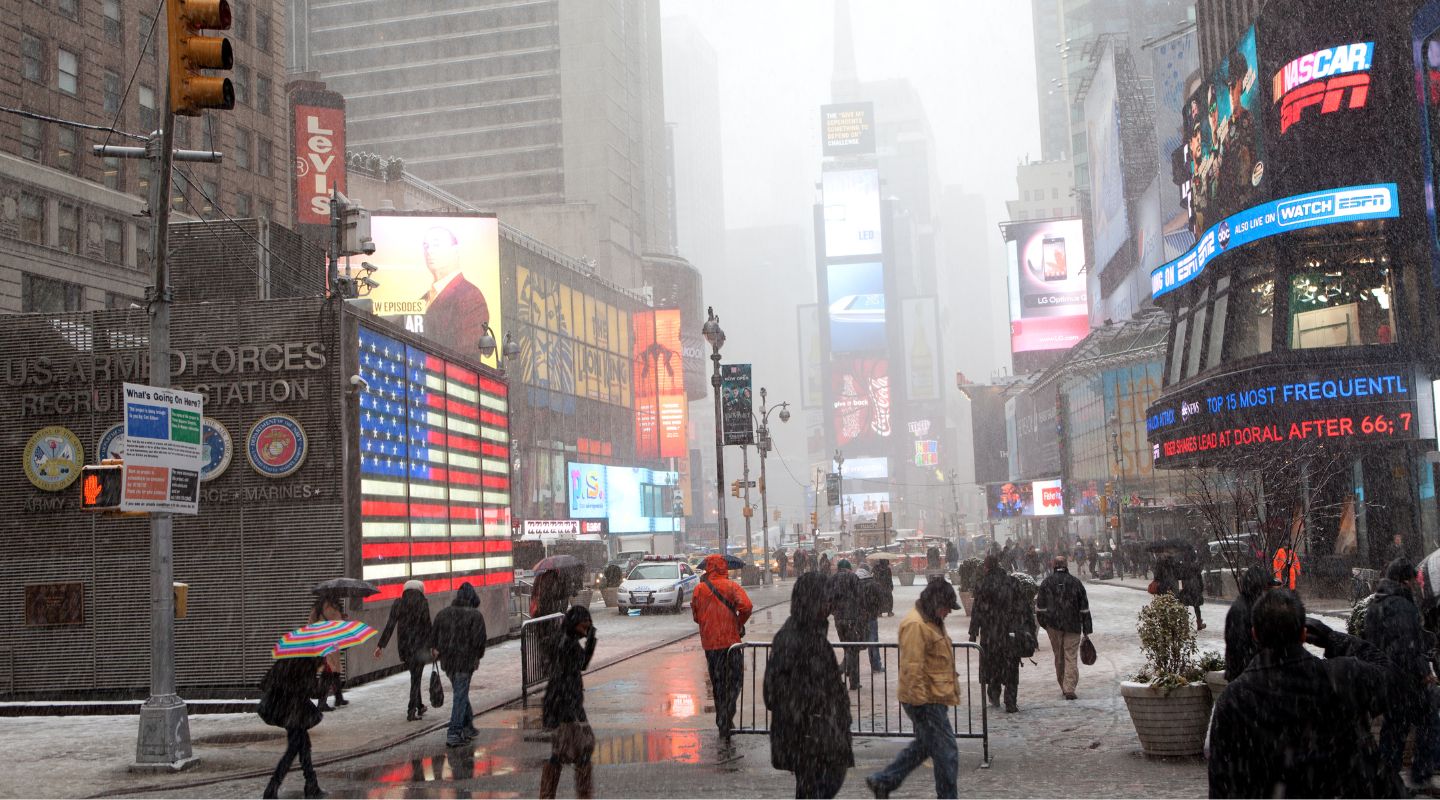 Although it's freezing, people cheerfully celebrate the holiday season despite the conditions.
In fact, there is so much to see and see that preparing an agenda that includes everything the city has to offer might be challenging, so we did the planning for you.
Here are some wintertime activities you really must do in New York City.
Celebrate New Year's Eve
The night before the new year is a significant holiday in New York.
We all like the chance to restart our lives, and we celebrate it in grand style with lavish events held all across the city.
On New Year's Eve, the majority of restaurants will offer prix-fixe menus with a choice of appetizer, entree, and dessert, as well as festive decorations.
Even a toast and midnight countdown are commonplace in eateries.
See a Broadway Show
No theater district in the world is more well-known than Broadway in New York City.
And what better time of year than January in New York to curl up in a toasty, heated theater?
One of the best things to do in New York is see a performance on Broadway , regardless of the season, but the winter is undoubtedly the best for a good escape from the chilly weather.
Ice Skating
Even though New York City is surrounded by water, the finest places to ice skate in the winter are the parks and private rinks.
Ice rinks may help you realize your winter skating fantasies in both Manhattan and Brooklyn, and some even provide a little extra.
See the Rockefeller Center Christmas Tree
The holiday season is unparalleled in New York City.
New York sparkles with decorations, twinkling lights, window treatments, and an apparent festive attitude throughout the five boroughs.
The Rockefeller Center Christmas Tree is the focal point of the holiday season in New York.
Every year, around the time of Thanksgiving at the end of November, the tree is erected and proudly guards the equally well-known ice skating rink, drawing tens of thousands of tourists from all over the world.
Celebrate Chinese New Year
Around the beginning of February each year, New York City comes alive with flamboyant hues, festive activities, traditional dancing, and street entertainers, all eager to celebrate the Lunar New Year.
Asia celebrates the Lunar New Year, a time when people pay respect to their ancestors, domestic gods, and celestial beings.
Think of lion dances, fireworks, and lots of wonderful dim food.
Hit a Museum
Although museums are open all year round in New York, the harsh winters make it the ideal time to stay indoors and view some of the best works of art.
Even the maritime trade, early New York's slum life, the Museum of the Moving Image, and a Museum of Morbid Anatomy have museums in New York City.
In New York, there is a museum to suit every interest. It's also a great justification for leaving the cold.
Why Visit NYC in Winter?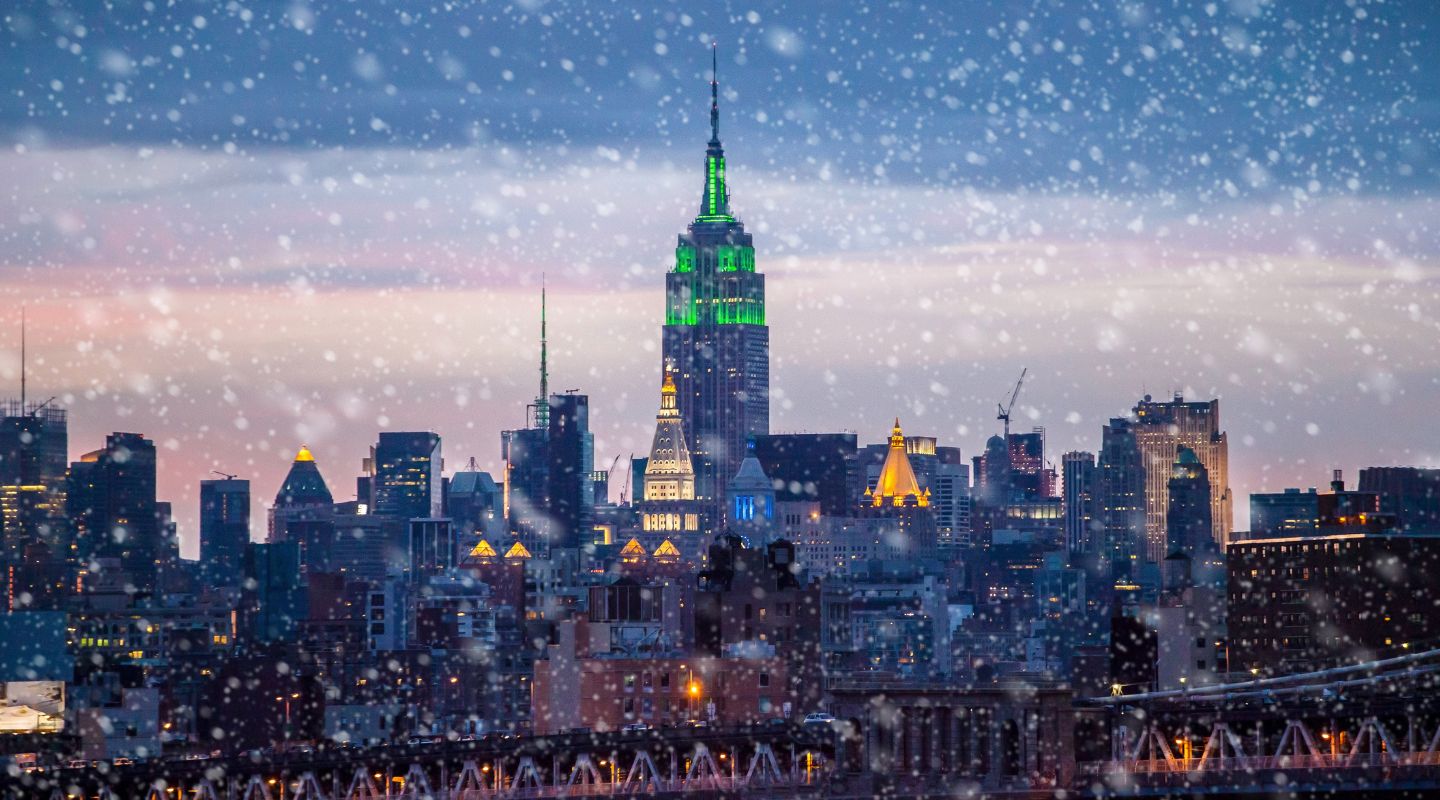 Apart from the holidays and snow, these are some of the more sensible explanations for why winter is an excellent time to visit New York City:

Amazing Deals

On Flights, Hotels, Shows And Dining In January and February. One of the biggest tourist destinations in the USA is New York City.
In New York City, tourism naturally declines during the brutal winter months of January and February.
That implies that in order to entice people to spend their hard-earned money, airlines, hotels, Broadway productions, and even restaurants must go above and above.
As a result, prices are markedly lower than the ordinary average price point.
In the winter, the most popular NYC attractions are less crowded.
There aren't many places on Earth where you can travel during the dead of Winter, experience its most popular attractions, and yet feel the same level of awe upon leaving.
You may enjoy New York City's independence during the winter, including during Christmas. You can see or do anything you desire in rather quiet surroundings. That is not something you should take for granted.
Snow In New York City. Why do you see so much snow in New York City?
The reason for this is that ground snow can persist for a long period since temperatures rarely rise above freezing following a big snowfall.
Christmas In NYC. New York City is the ideal destination for a Christmas holiday because of its legendary Christmas trees, vibrant lights, ice rinks, and world-class shopping.
Around Christmas, there is a constant vibe of joy in New York City. Similar to numerous other places, but much more intense!
Try going to a more local neighborhood like West Village or Williamsburg and bar hopping if you want to be less touristy.
Best Winter Month To Visit New York City
Now that you're armed with all of this new knowledge, which month—December, January, or February—do you think would be the best for you to travel to New York City?
An overview of each month's important information is provided below:
December
The period between Christmas and New Year's is a great time to travel to NYC.
The energy is electric, and you can shop for presents on Fifth Avenue or at Macy's, watch the ball drop in Times Square, or spend the holiday season eating and drinking with the locals.
Even though it is more pricey and crowded than January or February, you can still be looking for that.
Take in the social scene, hustle, and bustle of New York City. Around Christmas, there is a lower likelihood of snow, and it could even be pleasantly warm when you visit New York City.
January
January is the month to book if you want to get the greatest prices on hotels and flights.
If you are determined to avoid the chaos of the summer, this is also the best time to travel. Although it will be bitterly chilly, you will have city freedom.
When restaurant week comes around at the end of the month, all museums and attractions will be silent.
February
Similar to January but with the added benefit that the first three weeks coincide with restaurant week and that there is a higher chance of snow.
Flights and accommodations are still inexpensive, museums and attractions are still empty, and the weather is a little milder than in January.
Remember that Valentine's Day is the next holiday following Christmas; there may be several hundred more marriage proposals in NYC on that day!
We sincerely hope that this comprehensive guide will help you organize your ideal trip to New York City around Holiday!
This content was created by bestofnewyork.com. If you see this on another site, it has been stolen.
Make sure to check out the list of attractions in NYC below! From world-famous museums to towering skyscrapers, there's something for everyone in the Big Apple.