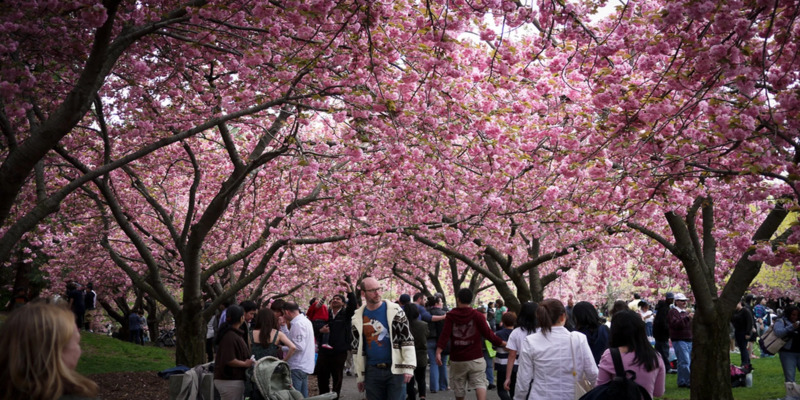 The finest time to visit New York City is now that Daylight Savings Time has started and the first flowers are in blossom.
There is no time to waste when organizing your spring getaway to New York City because of the warmer weather.
The most popular parks and botanical gardens in the country are located in New York, despite the fact that the city is best known for its concrete jungle. Plan a trip to one of NYC's renowned botanical gardens in spring if you want a side of blooms with your urban adventure.
Hanami Festival, a month-long celebration of the Japanese custom of commemorating the cherry blossoms that herald the arrival of Spring, is the Brooklyn Botanic Garden 's most well-known event.
The stroll through Cherry Esplanade, a stunning display of double-flowering cherry trees that normally blossom near the end of April, is one of the highlights of Hanami.
The magnolia trees at the Bronx's New York Botanical Garden, meanwhile, have already begun to bud. As you travel through the grove of mature Magnolias planted along Magnolia Way from March through April, you can't help but notice the exquisite aroma of these beautiful white and pink flowers.
You wouldn't want to miss this year's Orchid Show when you're at the New York Botanical Garden, a spectacular event that attracts thousands of tourists every year.
With the New York Pass, which also allows entrance to the Staten Island Botanical Garden and the Cloisters Museum and Gardens in Upper Manhattan, in addition to an other 70 well-liked New York attractions, you can visit both of these botanical gardens.
Cycling in Central Park is a fantastic way to experience it. From one of Bike and Roll's Central Park locations, you can rent a bike for the day (Columbus Circle or Tavern on the Green).
If it's your first time visiting New York City, you might also sign up for one of Bike and Roll's knowledgeable guides' three-hour Central Park Bike Tour.
The John Lennon memorial in Strawberry Fields, Belvedere Castle, and Bethesda Terrace are among places you'll see while getting some exercise in Central Park.
Spring is the greatest time of year for one of the city's walking tours because the warm weather is also ideal for strolling in New York. You may explore the sights while enjoying gourmet food on one of City Food Tours' several walking tours around the city's most famous neighborhoods.
On the Craft Beer, Cheese and Chocolate Tour of the Upper West Side, sample artisanal cheeses and craft beers; alternatively, take the Flavors of New York Tour of the East Village to discover how real New Yorkers eat.
Since the days are getting longer and there will be more to see this Spring in NYC, you'll need the energy.