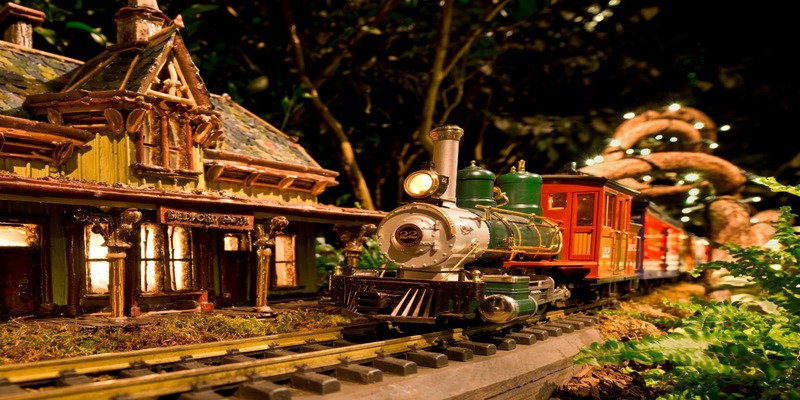 Normally, we'd have to label you as crazy if you tried to visit all five boroughs of New York City in a single afternoon. However, you can view Manhattan, Brooklyn, Queens, Staten Island, AND the Bronx at the New York Botanical Garden's Holiday Train Show without ever leaving the comfort of the garde n's beautiful conservatory.
Because there, tucked amid the plants and flowers, is a diorama depicting every famous location in New York City, with 140 reproductions made completely of twigs, nuts, bark, leaves, and berries (we know, it sounds strange, but it's one of the coolest things ever!).
Try to identify as many as you can; some are simple to recognize (you'll immediately recognize the Statue of Liberty, Brooklyn Bridge, and Yankee Stadium), while others require a little insider information (one example of the latter is the Guggenheim Museum created from fungus).
Of course, there are also the trains, which whiz by Grand Central Station, through the bridges, and all over the Enid A. Haupt Conservatory, the biggest Victorian glasshouse in the country.
The New York Botanical Garden is easily accessible by train from Grand Central Station, subway or car.
Take a look at the list of attractions in NYC below and start planning your trip today! With so much to see and do, you'll need to book your trip soon to make sure you get the best deals on hotels and tickets.