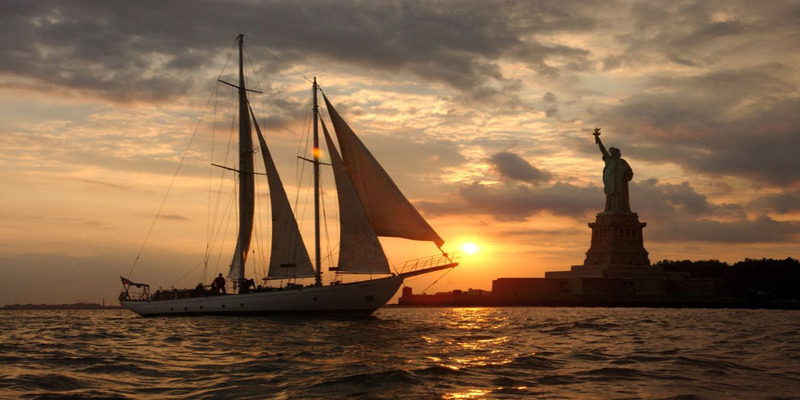 We've been attempting to come up with a better approach than taking a nighttime boat in NYC to see the glistening skyline of New York City. But we simply cannot.
It really is impossible to choose between seeing the sun set behind the Statue of Liberty and the city's brilliant lights twinkling in the distance while sipping champagne.
This is how to see New York City at night. There is a tour for any landlubber in NYC, whether you want to set sail on a historic schooner for a truly Old New York experience or on the deck of a contemporary checker-cab-by-the-sea.
Amazing night cruises are offered on a traditional ship by Manhattan By Sail, which captains two remarkable vessels. The topsail schooner "Clipper City" is a stunning reconstruction of a cargo schooner from before the Civil War and was built based on blueprints obtained by the Smithsonian.
The only "Tall Ship" in New York City, Clipper City, is 158 feet long as well, giving up to 150 people plenty of room to comfortably sail around New York Harbor.
Order a drink from the Clipper City's full bar and unwind on the deck during the Twilight Cruise as the sun sets.
When the crew of this historic schooner from the Gatsby era switches off the engine and you're silently traveling down the Hudson with your complimentary drink in hand, you'll view New York City from a whole other perspective. The only recognized floating landmark in New York is the Shearwater.
If you'd rather stay on board after dinner, World Yacht's Nightly Dining Cruises provide a gourmet night at sea with a four-course feast of traditional American dishes prepared with locally sourced ingredients.
Take in the sunset from your seat as dessert is delivered before going outside to the balcony for a drink.
If you have other places to be, there is always the Statue By Night Cruise offered by New York Water Taxi, a brief one-hour tour that passes by all the attractions in New York Harbor and the city skyline while providing you with a champagne toast to the city!
And since the onboard cash bar is fully stocked, you can have more than one. In New York City, it's the ideal way to start off a thrilling night on the town.
Have you ever taken a nighttime harbor tour in New York? What would you suggest?