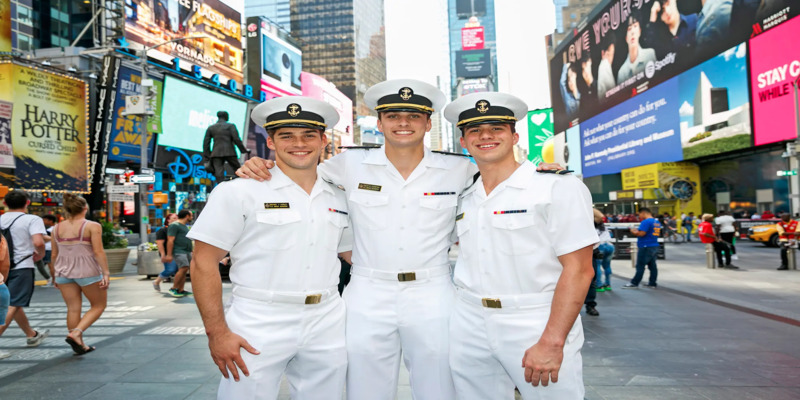 You should see it during Fleet Week if you thought New York City was packed! Thousands of sailors, marines, and members of the Coast Guard are invited to NYC for this yearly event, which also gives the general public a rare opportunity to see inside their quarters.
It's not only remarkable to witness Times Square thronged with hundreds of white-uniformed sailors who are glad to be away from the open seas, but it's also an opportunity to explore the magnificent U.S.
These men and women proudly reside on military ships and also get first looks at some of the biggest Broadway productions!
Every summer, the Intrepid offers free outdoor showings of motion pictures with a military theme. Another of Fleet Week's most well-known activities pits different military branches against one another in a tug-of-war contest at the Intrepid.
The Navy Band NE & USMC Band will be performing in Times Square on Saturday if you are unable to make it all the way to the Intrepid.
Veterans, members of the general public, and active members of the armed forces are all welcome to the celebration at the Intrepid on Memorial Day. Residents and visitors from the outer boroughs have an additional option to observe the occasion at parades in Queens and Brooklyn.
A guy (or woman!) in uniform is easy to find during Fleet Week if you just want to see one. The young sailors are known for letting off a lot of steam in NYC, so anticipate seeing white uniforms filling every bar on Manhattan's West Side for the entire week.
(Additionally, since this is the first Fleet Week since the "Don't ask, Don't tell" policy was lifted by the military, NYC's numerous gay clubs are organizing massive festivities for gay and lesbian service members.)
How do you choose to observe Fleet Week? Don't miss out on all the fun things to do in NYC! Check out our list of the best activities and attractions below.