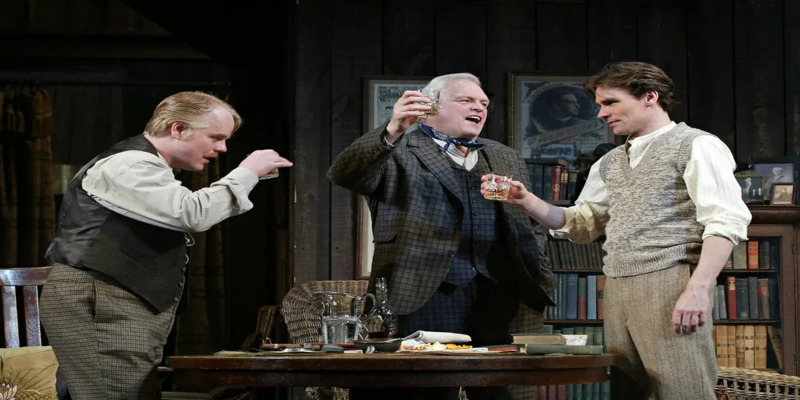 We'd like to know whether you can think of another actor who would be a better choice than Philip Seymour Hoffman to play Willy Loman on Broadway.
We can't think of anyone else we would prefer see direct the production of this classic American play because the lead part in Arthur Miller's seems to fit the Oscar-winning actor so wonderfully.
The Broadway version of Death of a Salesman opened at the Ethe l Barrymore Theatre and is currently in previews. With a cast that includes Hoffman, Andrew Garfield (The Social Network, "The Amazing Spider-Man"), Linda Edmond (Life X 3 on Broadway, and the movie "Julie & Julia"), and others, the short 16-week run will undoubtedly be a sellout.
Mike Nichols, who directed the play, is one of the very few individuals who have received an Emmy, Grammy, Tony, and Oscar for the 1967 film "The Graduate." Hoffman was earlier starred under Nichols' direction in "The Seagull" at the Public Theater.
The play Death of a Salesman, which won the 1949 Pulitzer Prize, is about an elderly traveling salesman who must come to terms with the emptiness of his existence and the failure of his eldest son to live up to his expectations.
Hoffman, who has played many shuffling sad sacks over the years, is anxiously awaited by critics and theatergoers alike for his most recent depiction of Loman.
Hoffman is no stranger to the theater; in fact, his performances in "True West" (2000) and "Long Day's Journey Into Night" earned him two Tony nominations (2003). Hoffman is naturally best recognized for his film roles.
The actor has also been nominated for multiple Golden Globes and garnered an Oscar for his depiction of Truman Capote in "Capote" in 2005. He has also been nominated for performances in "Charlie Wilson's War" and "Doubt."
In fact, someone ought to ask the Academy to establish a new classification for movies featuring Philip Seymour Hoffman.
Because he appeared in several of the films recognized this year (including "Moneyball" and "The Ides of March"), and there hasn't been a period in recent years when he hasn't been in a movie being recognized on the award show circuit.
This is true even though the seasoned actor of stage and screen didn't win any Oscars of his own last Sunday at the Academy Awards.
So, if you're a lover of Hoffman's work, watching Death of a Salesman on Broadway is the best opportunity to experience his complex portrayal up close.