Discover the City from the sea, appreciating the breathtaking evening lights of New York's renowned skyline and landmarks.
This tour onboard NYC's most famous and cutting-edge boat, which is narrated by knowledgeable and entertaining guides, is an amazing experience.
Get ready to take some of the best selfies of your life with your camera .
And while you lay back and unwind in the luxury of one of our cutting-edge boats, the award-winning tour guides will narrate the history of New York City so you won't miss a thing.
What To Expect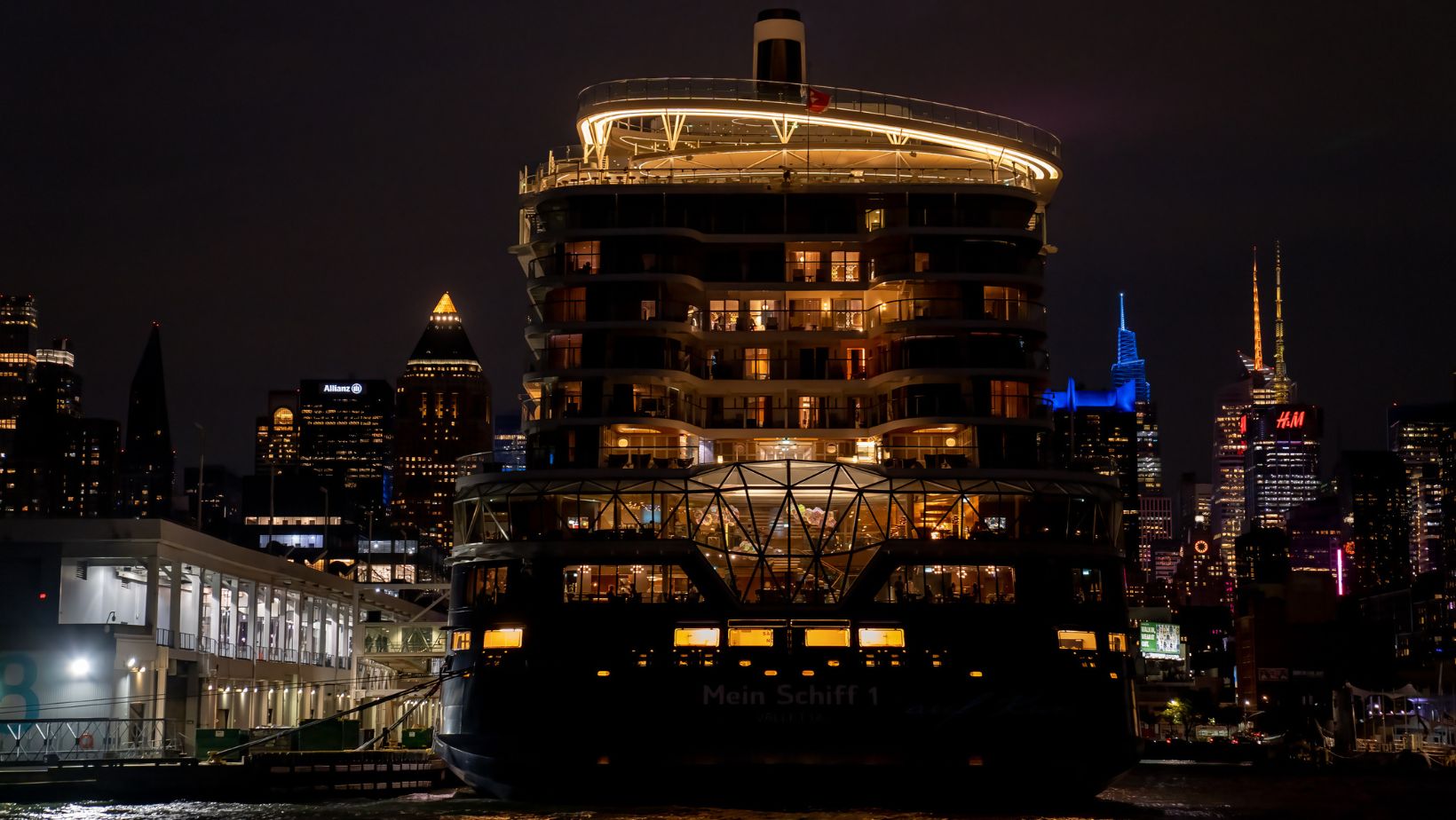 Arrive at the departure location at Pier in New York City on your own. The best seats are first-come, first-served, so try to be there early for your cruise to get them.
As your boat enters New York Harbor and travels along the Hudson River, take a moment to unwind and enjoy the expansive vistas.
Observe the skyline of Manhattan and its famous buildings, including the One World Trade Center, the UN headquarters, the South Street Seaport, the Empire State Building, the Chrysler Building, and others.
Then, enjoy the Brooklyn Bridge's vistas as you pass by the Statue of Liberty and Ellis Island while an on-board guide provides tidbits about their histories and those of New York City.
During your sightseeing, stop by the on-board concession areas to purchase refreshments and snacks (both at your charge) and souvenirs. When your ship returns to the pier, your cruise is over.
This tour includes some of the most notable locations in the city. You'll see how each location is illuminated. Just a few of the landmarks you'll encounter are listed below:
The Statue of Liberty - This French gift evo lved into America's most striking symbol. Lady Liberty looks better than ever!
The Freedom Tower - Pay respect to t he original twin towers before relaxing and taking in this newly constructed symbol of freedom.
The Brooklyn Bridge - View the Bridge in its nighttime illumination. This is a beautiful way to depict one of the city's most recognized bridges' splendor.
The Chrysler Building - Iconic and the backd rop of multiple films. This building comes to life at night.
Ellis Island - Speaking of freedom, a visit to Ellis Island will allow you to understand the historical experiences of more than 12 million immigrants.
The Empire State Building - Is the Empire State Bu ilding the most historic structure there is? We don't believe so, despite it being called The World's Most Famous Building!
NYC Harbor Cruises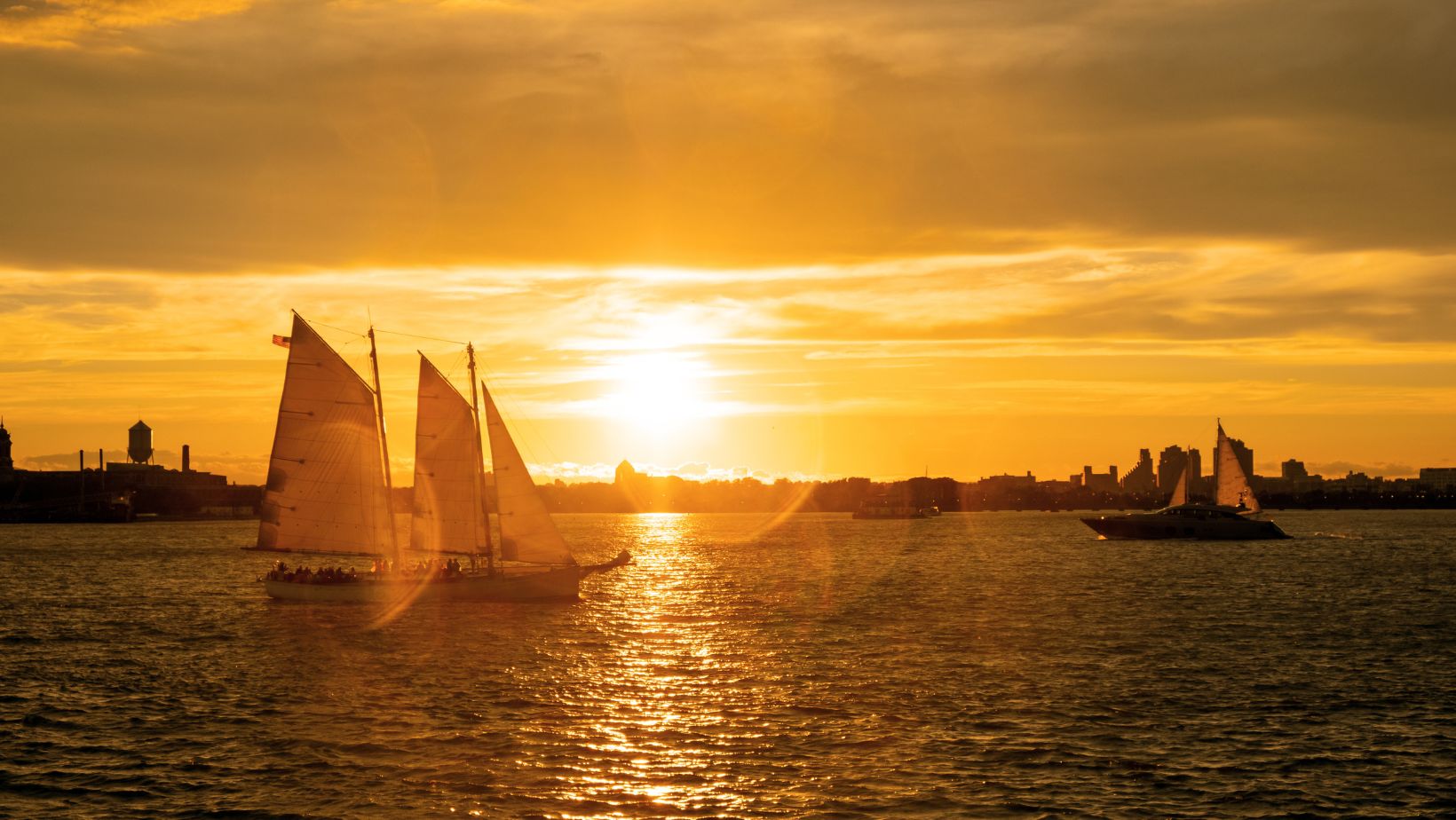 Whether you want to experience this by sail boat or motor yacht we have the perfect NY Harbor Cruise for you.
Whichever Lower Manhattan Sightseeing Cruise you choose, you can be guaranteed to get the ideal selfie or photo chances of the city's most famous monuments!
Take a New York Sightseeing cruise unlike any other.
Take in the spectacular sights that NY Harbor has to offer by boarding our motor yacht that is decorated in the style of the 1920s.
It's a great idea to take out-of-town guests on this trip to show them the sights, and kids will love it because it's the ideal sightseeing tour.
As you cruise by Ellis Island, the Statue of Liberty, Governors Island, and take in the entire view of New York Harbor, sit back and unwind on this exquisitely made yacht.
Take a romantic sightseeing cruise in New York like never before. Come onboard our opulent motor boat with a 1920s theme.
To enjoy the renowned panoramas, curl up in the climate-controlled observation cabin.
Join us for a comfortable and distinctive NY Harbor Cruise that offers a stunning view of the New York City skyline at dusk. The most amazing way to visit New York City is on this romance cruise, without a doubt!
Embark on a luxurious 1920s style yacht cruise on the Manhattan or Manhattan II as the Classic Harbor Line Jazz Trio, The Boat Band, performs live jazz music! Study up on our NYC Jazz Cruise!
The relaxing sounds of jazz are the ideal way to unwind and start your evening.
Aboard one of our vintage boats, discover New York as you've never seen it before.
Leave the bustle of city life behind after a day of touring and join us for a scenic boat cruise in New York Harbor.
Enjoy the island's opulent scenery while lounging on one of these vintage vessels' open decks while soaking up the sun.
A romantic Holiday Jazz Cruise by boarding our luxurious yacht Manhattan II, which is decked out for the season.
Take your special someone on this 1.5-hour cruise while holding a glass of champagne.
As you relax for an evening out in New York Harbor aboard a luxury yacht, watch the city lights sparkle at night.
On every excursion, a free beer, wine, cup of hot cocoa (spiked if you like), or glass of champagne from the bar is provided. There are other drinks for sale.
This content was created by bestofnewyork.com. If you see this on another site, it has been stolen.
Is going on a cruise at night a good idea?
A unique experience is taking a cruise at night. Options include a buffet supper or a gourmet dinner, live music, and more.
Real luxury boats that make you feel like a VIP in the New York night are used for the navigation.
Don't worry if you're traveling in the summer or the winter, the boats feature a covered area to keep you warm.
For a smaller fee than the night dinner cruises, there is also a cruise that sails at night on a traditional sailboat and will take you to see the city's landmarks lit up.
You can see that there is a choice for every price range.
This is what nighttime New York City looks like. In New York City, there is a tour for every landlubber, whether they wish to cruise on a historic schooner for a taste of Old New York or on the deck of a modern checker-cab-by-the-sea.
For some of the best selfie possibilities of your life, visit right away and get your camera ready!