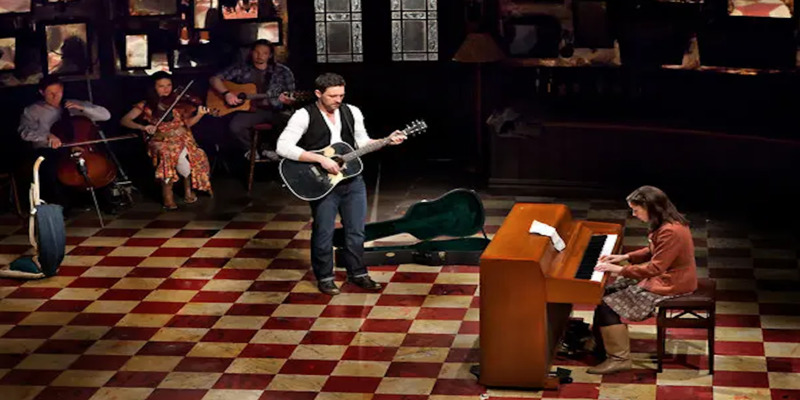 As alluring as an Irishman's brogue is the new musical Once !
The same melodies and tenderly understated love tale that delighted fans of the sleeper smash independent film that served as the inspiration for this improbable musical are now winning over Broadway audiences.
The good news is that this love doesn't have to go unrequited; you may let yourself fall head over heels just like the critics have, unlike the heroes of Once: The Musical, known merely as "Guy" and "Girl."
In the film Once, an Irish busker falls in love with a Czech flower vendor as they create a shaky romantic bond through songwriting. Glen Hansard and Marketa Irglova, two skilled musicians who also wrote the music for the movie, played the roles of the characters.
"Falling Slowly," the most profoundly moving song from the indie romance film set in Ireland, was written by these two musicians. In one of the most memorable moments from that year's Academy Awards ceremony, that song received the Oscar for Best Song.
The Once: The Musical review in The New York Times praises the adaptation for its skillful adaptation to the stage, particularly when it comes to the musical sequences that were an integral part of the movie. In an early review of the play, Ben Brantley of the New York Times said that they "soar with rough-edged, sweet-and-sad ambivalence that is seldom explored in modern American musicals."
The show's leads, Steve Kazee as the Guy and Cristin Milioti as the Girl, are praised by New York Magazine for bringing their unique chemistry to the parts. According to Scott Brown, they even succeed in making the song "Falling Slowly" "sound like the first petal of fresh love."
We can only picture the melancholy longing for those initial few days of a new love when the Guy and the Girl ultimately split ways. You'll feel the same way about the new musical Once once you leave the Bernard B. Jacobs Theatre.
Don't miss out on the great events happening in NYC! Check below for more shows and events.