One of the finest ways to enjoy the Manhattan skyline is by taking yourself off to one of the best rooftop bars in NYC. This is our guide to the best rooftop bars NYC offers with seasonal cocktails to enjoy.
1. Bar 54
At the top of the Hyatt Central, Bar 54 is Times Square's tallest rooftop bar. This is one of the best NYC rooftop bars, and it offers a view across New York City, including the famous Chrysler Building.
It offers an intimate indoor space with floor-to-ceiling windows and a spacious rooftop patio. Meanwhile, the bar offers a wide range of drinks, including craft cocktails, beer, and wine. This high-class bar also provides a wide selection of whiskey and some tasty bar snacks.
2. 230 Fifth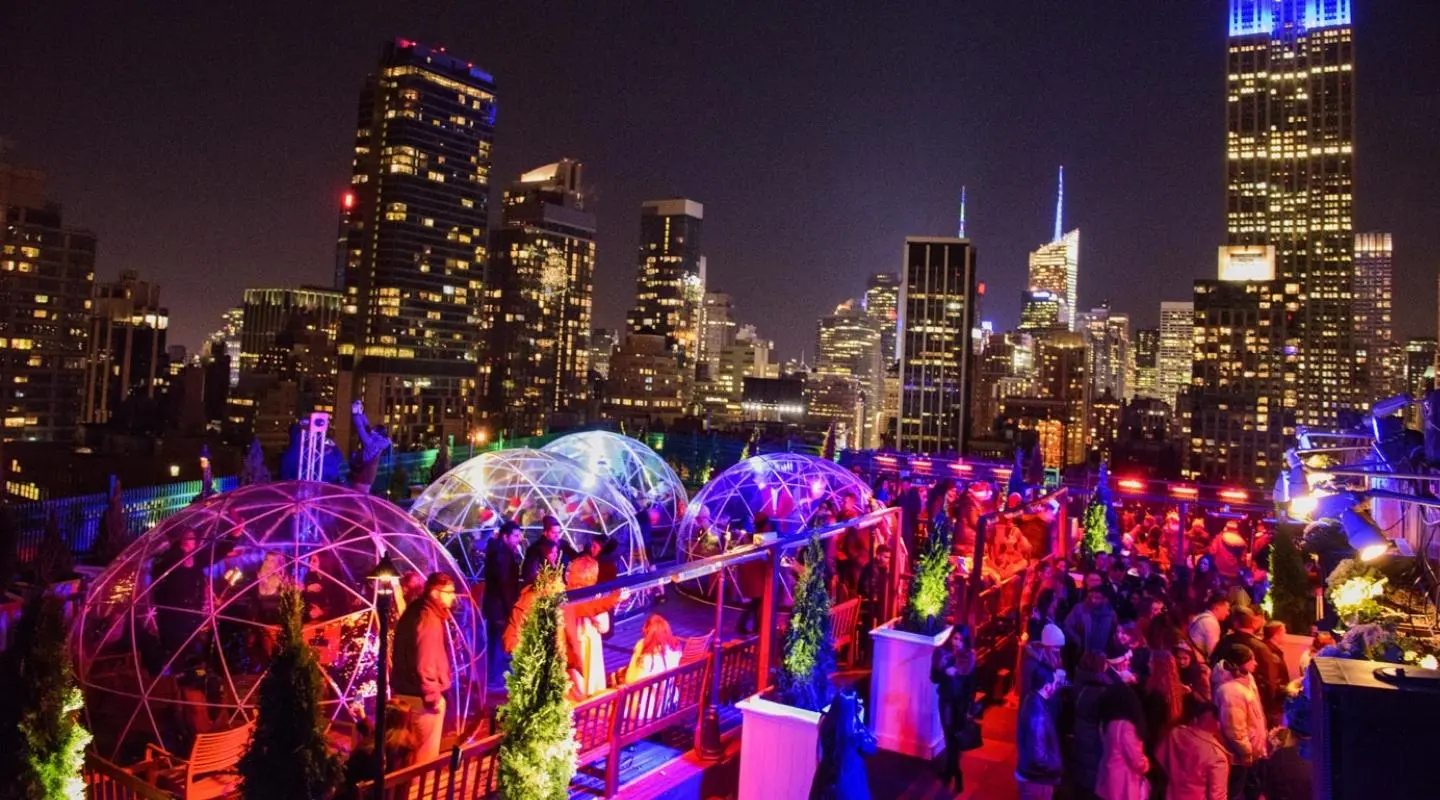 Image credit: 230-fifth.com
This huge rooftop terrace can cater to 1,000 people in one sitting while offering unrivaled views of the city skyline with the Empire State Building as the focal point.
Open year-round to provide views of New York City in winter, spring, fall, and summer; there are outdoor heaters and even rooftop igloos during the winter. The highlight of the menu at the rooftop restaurant is the outstanding rooftop brunch buffet served every weekend.
3. Somewhere Nowhere
Located in Chelsea on top of the Renaissance New York Chelsea Hotel, this rooftop bar covers two levels. It offers panoramic views across downtown Manhattan and the Hudson River.
This beautiful spot has much to enjoy, including a luxury rooftop pool, an open-air rooftop with lounge chairs, and 360-degree views across the entire city. As well as their specialty cocktails and tapas, weekend nights see a host of international DJs provide the soundtrack for partying New Yorkers.
4. Ready Rooftop Bar
Image credit: Courtesy The Moxy East Village
A casual backyard inspires this rooftop lounge on top of the Moxy in the East Village. A colorful terrace, the real gem in this relaxed NYC rooftop joint's crown is the retractable glass roof, which makes it suitable as a year-round hangout.
The refreshing drinks menu includes classic cocktails and frozen drinks. In addition, there are tableside coolers where you can keep your beer, wine, and expertly crafted cocktails nice and cool. This all contributes to making this one of the most relaxed bars in New York City.
5. JIMMY SoHo
This rooftop bar in the heart of SoHo provides stunning views of New York, which include the Freedom Tower and the distant New Jersey skyline.
The outdoor pool deck is among the best in New York, making it one of the most popular rooftop bars in New York. Reservations are recommended for anyone wanting to experience this classic cocktail lounge feel and wide range of specialty hand-crafted cocktails.
6. The Roof at PUBLIC Hotel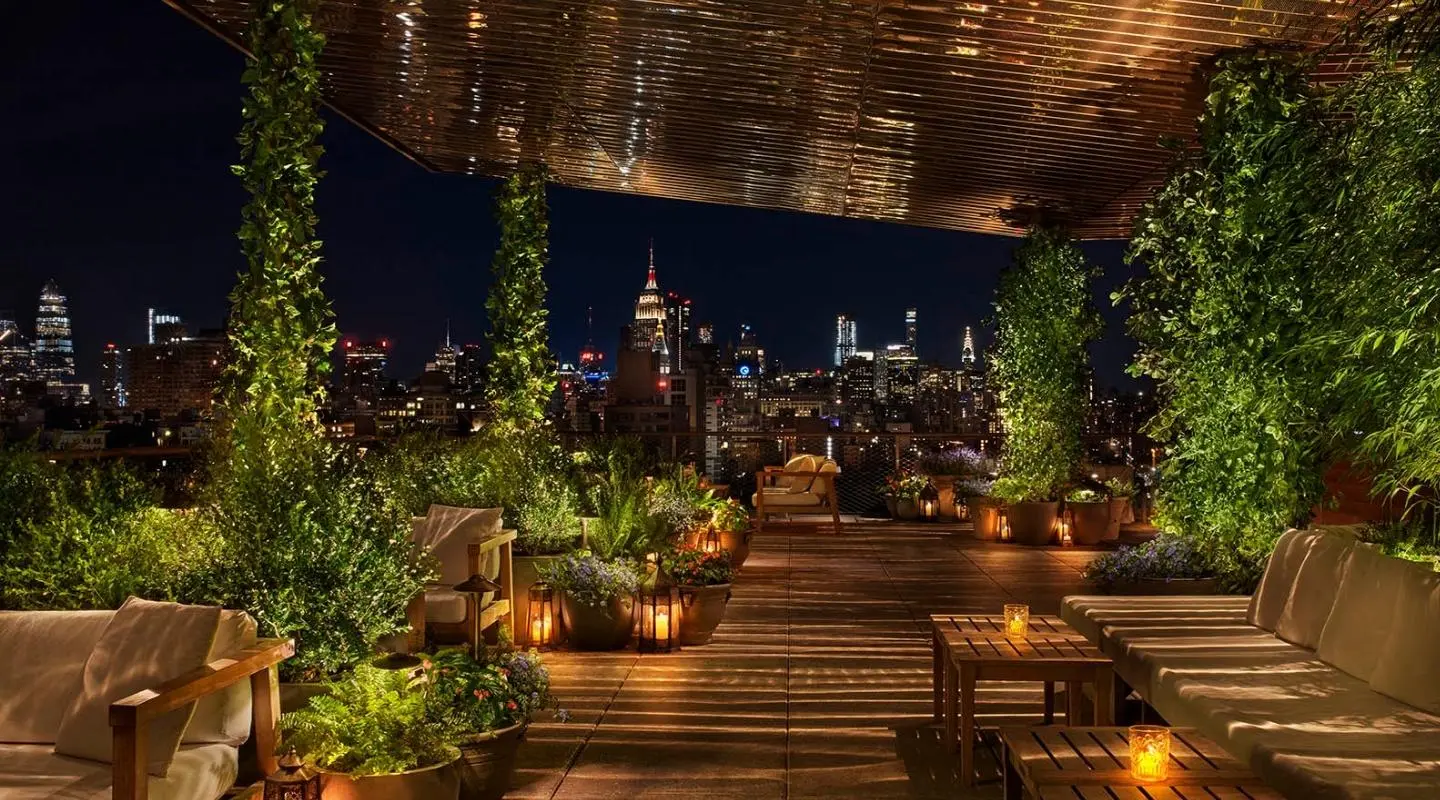 Image credit: publichotels.com
This Lower East Side hotel has swiftly become one of the most popular NYC rooftops since opening in 2017.
The indoor lounge has full-height ceilings, while the rooftop garden outside is beautifully landscaped with 360-degree views across the city and East River.
Open to the public and hotel guests alike, this hotspot turns from a relaxed sunset cocktail bar into a thumping nightclub that hosts the best DJs from the US and abroad.
7. Westlight
Situated on the 22nd floor of the William Vale Hotel, this upscale rooftop outdoor terrace is a stunning place to enjoy rooftop drinks.
As well as sweeping city views, the menu offers a range of signature cocktails, craft beer, hard-to-get spirits, and small plates of global street food.
This rooftop venue is perfect for ca tching a relaxed early sunset over Manhattan or enjoying a more vibrant party atmosphere after dark.
8. Slate Rooftop Bar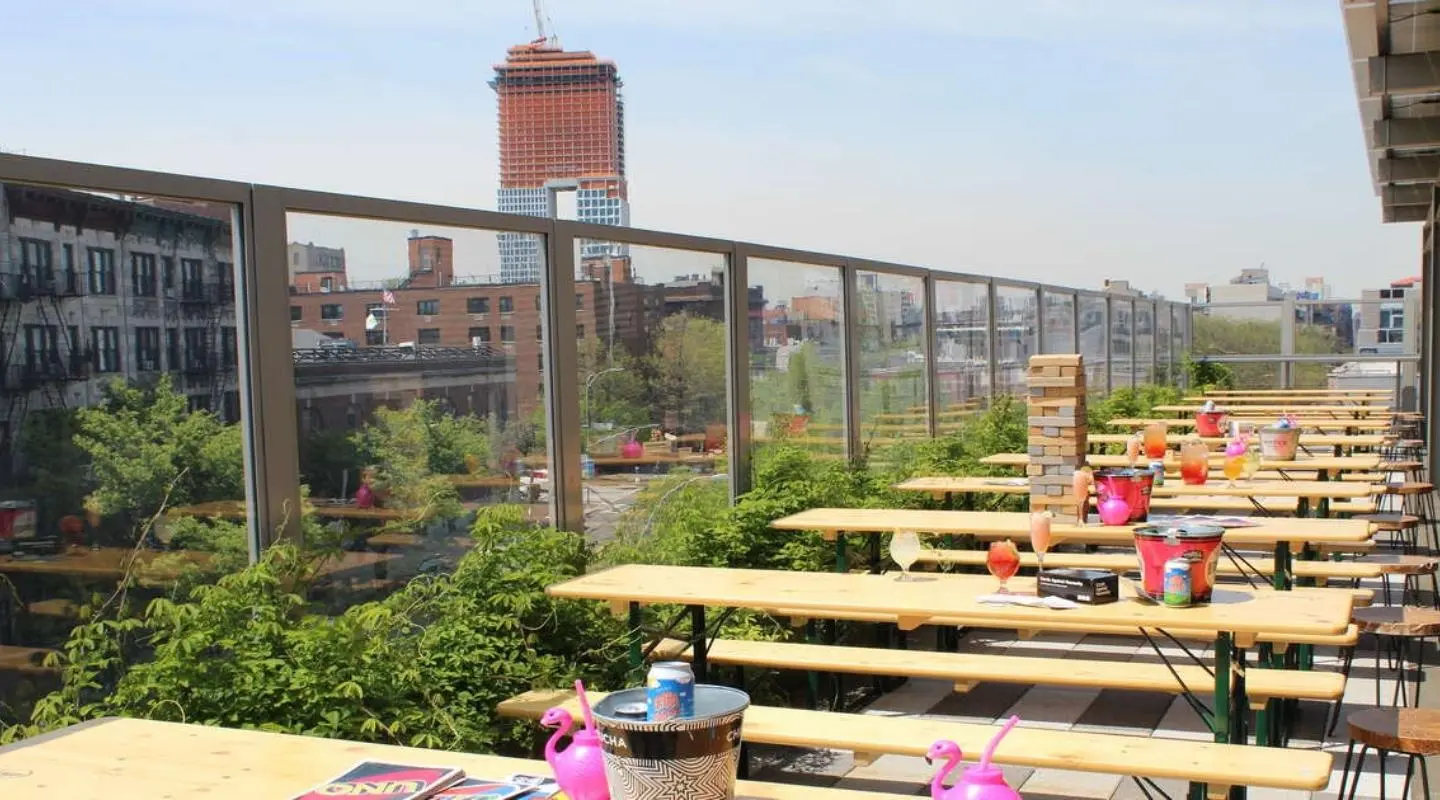 Image credit: thrillist.com
Slate is o ne of New York's new favorite rooftop bars on top of the Pod Brooklyn Hotel in Williamsburg. It combines industrial chic and bar seating with panoramic views across the Manhattan skyline.
With a great rotation of beers on tap, not to mention tasty cocktails, this is the best rooftop bar in NYC for enjoying larger-than-life games. Meanwhile, you can enjoy some light bites alongside the best views across Lower Manhattan.
This content was created by BestOfNewYork.com. If you see this on another site, it has been stolen.
9. Greenpoint Beer
Located in one of the most northern neighborhoods in Brooklyn, this craft ale outlet is well worth the trek.
One of the most famous parts of Brooklyn's bustling craft beer scene, this colorful rooftop bar provides views across the neighborhood. It's the ideal place for beer fans to sample the best Greenpoint and other local brews while relaxing in a tremendous al-fresco setting with some comfort food.
Also Recommended
If you're looking for more bars in New York City, check out these: